1915 Aerotech Drive Ste 114
Colorado Springs, CO 80916
Phone: 719-370-5141
Email: CVNCS@red-rock.com
Clinic Hours:
Monday 8AM – 6PM*
Tuesday 8AM – 6PM
Wednesday 8AM – 6PM
Thursday 8AM – 6PM
Friday 8AM – 12PM*
*Telehealth Appointments Only
** After hour appointments are available on a case-by-case basis.
CRISIS LINES
For immediate emergencies, please call 911. Otherwise please refer to the resources below:
---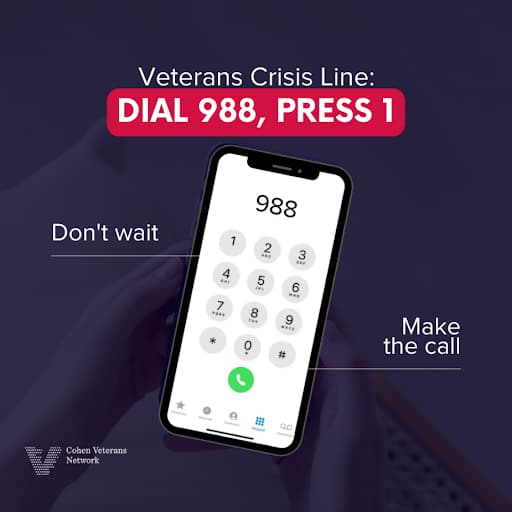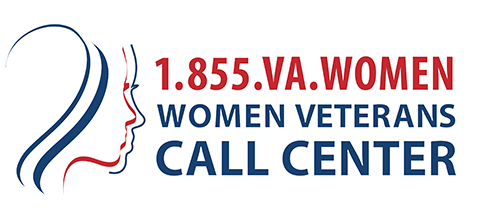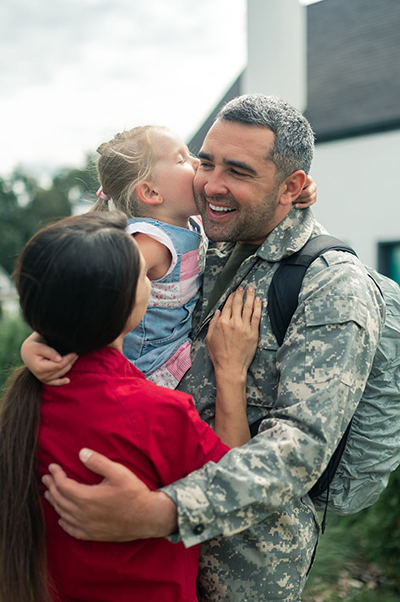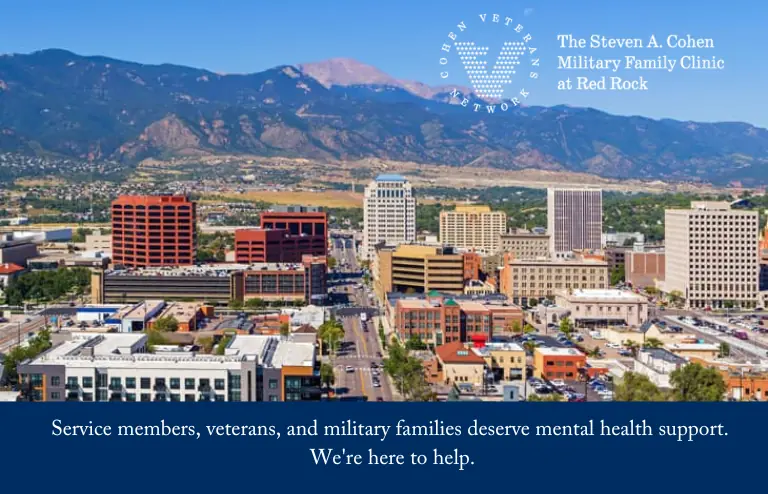 The Steven A. Cohen Military Family Clinic at Red Rock is located at at 1915 Aerotech Drive Ste 114, Colorado Springs, CO 80916. Please call us at 719-370-5141 or email us at CVNCS@red-rock.com with any questions or to get more information on how to schedule an in-person appointment.
Who We Serve
The Steven A. Cohen Military Family Clinic at Red Rock, Colorado Springs provides confidential, high-quality, behavioral health care services and local resource connections. We serve:
Veterans: Veterans who have served in the United States Armed Services, including the National Guard and Reserves, with a focus on post-9/11 veterans. Care is available regardless of discharge status, role while in uniform, combat experience, ability to pay, or insurance.
Military Families: Family members of post-9/11 veterans and service members, including spouse or partner, children, parents, siblings, caregivers, and others.
Service Members: Service members of the United States Armed Services and National Guard and Reserves, regardless of activation status. Active duty service members require a TRICARE referral. Referral is required prior to being seen for individual therapy or medication management, but no referral is necessary for couples or family therapy. Service Members can obtain this referral from their military treatment facility (primary care clinic or mental health clinic). Our clinicians will not communicate with commanders/supervisors.
What We Do
Our highly-skilled clinicians at The Steven A. Cohen Military Family Clinic at Red Rock treat a variety of behavioral health challenges, including but not limited to:
Depression
Stress & Anxiety
Post-Traumatic Stress Disorder
Substance Use Disorder
Sleep Problems
Hypervigilance
AngerGrief & Loss
Transitional Challenges
Relationship & Family Difficulties
The Steven A. Cohen Military Family Clinic at Red Rock uses evidence-based practices (EBPs), which are therapy and counseling options that are the current, best practices available based on research. Treatments are also available based on the individual needs of each clients. These practices include but are not limited to:
Cognitive Processing Therapy
Cognitive Behavioral Therapy
Cognitive Behavioral Therapy for Insomnia
Prolonged Exposure Therapy
Couples Therapy
Child/Family Therapy
Integrated Case Management
We focus on meeting your needs to improve the quality of your life with brief case management and local resource connection. Typical resource connections include but are not limited to:
Caregiver Support
Child Care
Education
Employment
Housing
Legal Assistance
Military Transitions
Peer Support
Personal Finances
Recreation
Rehabilitation, Occupation, and/or Physical Therapies
Smoking Cessation
Transportation
Wellness, Health, Nutrition, & Exercise
Other Life Circumstances